Pine Island (in Lee County) is the largest island (17 miles long and 2 miles wide) on the west coast of Florida, just 15-20 minutes from Cape Coral, 30 minutes from Ft. Myers and one hour from Southwest Florida International Airport (RSW). Pine Island's secluded, quaint and "country waterfront" atmosphere is a huge part of its charm. Fringed with mangroves rather than white sand beaches, Pine Island has escaped the concrete, blacktop and skyscrapers found in the more touristy, beachy communities. Current legislation prohibits high density, high-rise development in the foreseeable future . . . designed to preserve our unique, rural island heritage for generations to come.
Need Directions to Pine Island?
From the north* or south, traveling on Interstate I-75, take exit 143 (old 26) onto State Road SR78, west (the same road is named Bayshore Road to US 41 and Pine Island Road still heading west from US 41) until you reach the most western end of the road. At this point, you will be at the Center of Pine Island, where you must decide, whether to turn right (north) onto Route 767 (Stringfellow Road) which takes you to Pineland and Bokeelia, OR to turn left (south) also onto Stringfellow Road which will take you to St. James City. It is approximately 8 1/2 miles to the northern tip of the island and the same 8 1/2 miles to the southern tip. That is how we "figgered" that Pine Island is 17 miles long! In due course, we will offer some refinements or shortcuts for more venturesome or experienced map readers and travelers. If you need a shortcut in a hurry, come back to us via email. If we can help you with directions from Southwest Florida International Airport, we will be glad to give you our best and most direct route.
*If coming from the north, your best bet is to exit I-75 at old Exit 28. Then jump onto SR 765, Burnt Store Road by crossing US 41 at the light. After some 20 or so miles, this will bring you to Pine Island Road intersection, SR 78. Turn right and you will soon be entering Matlacha and Pine Island.
---
Site Directory and Navigation
We highly recommend that you take a few moments to read through our entire material, as it will give you a broad overview of the what Pine Island is all about. If by chance you have already "been there and done that", you certainly are welcome to jump-start your visit by moving right along into the Site Directory below.
To assist you in navigating our "waters", we suggest that you use the buttons below. Just click on each one to "cruise" the site and remember to use your browser's "backbutton" to return here. Enjoy your visit. (If you like what you see and read about our little country island, just "get real . . . come on down and browse around"!)
Are you Interested in finding out about . . .
Accommodations (short-term), Home or Condo Rentals (monthly or seasonal), Boat Rentals, Fishing Charters, Tour or Cruise Boat Trips, Restaurants, or any other island services?
The two parts of the PINE ISLAND BUSINESS DIRECTORY are quite helpful to viewers since businesses are listed by service or specialty categories, with address, phone numbers and e-mail, too. We will soon offer direct links, to all those businesses or services who have their own websites and/or email addresses. This is a fast and easy way for you to connect directly with any specific island services or providers you may want to get in touch with!
---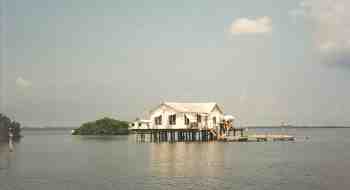 HISTORICAL
Florida and Pine Island rose from the receding seas some 24 million years ago. While it is not known when man first arrived on our island, skeletal remains have been unearthed dating back some 6,000 years.
The Calusa Indian civilization had its cultural center in Southwest Florida, with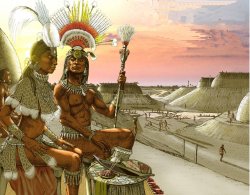 many shell mounds discovered on Pine Island. Other mound sites were located in the Charlotte Harbor area to the North and extending down to the Ten Thousand Islands near the Everglades. An important, periodically-worked, archeological site is located in Pineland on the northwest edge of Pine Island. The Randell Research Center (below) offers tours and information and is located next to the Pineland post office.
It is likely that the Calusas inhabited Pine Island until 1513 when it is believed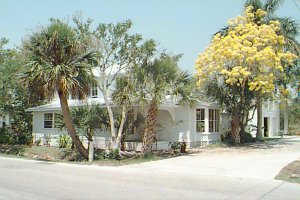 that Ponce de Leon landed on the west side of the island. The Spanish skirmished with the Calusas and imported serious, European diseases to which the natives had little immunity. By 1750, the Calusa culture had vanished, leaving behind only shell mounds and empty villages. Except for occasional pirates or fishermen, Pine Island was basically uninhabited until 1873 when a Russian sailor named Captain John Smith arrived after having survived a hurricane on nearby Punta Rassa. He decided that Pine Island would be a safer haven against future storms since it was protected from the Gulf of Mexico by the outer islands of Sanibel, Captiva and Cayo Costa. Other settlers followed and they, too, lived off the substantial bounty of the sea, while beginning to develop the beautiful, island paradise that we now enjoy.
When you come to Pine Island, be sure to visit our Museum of The Islands Historical Society (MOTI) where you will find a wealth of information on the Calusas and our early pioneers. You will also find other historical writings and pictures detailing the challenging way of life of the commercial fishermen who will always be proudly remembered for the significant contribution that they made as part of Pine Island's heritage. The Museum is located near Pine Island Center on Sesame Drive, next to the library building.
---
COMMUNITIES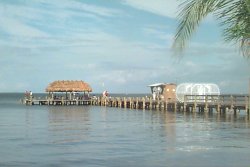 Pine Island consists of Matlacha (Mat-la-shay), Pine Island Center, Bokeelia (Bo-keel-ya), Pineland and St. James City. Each community treasures its own distinctive ambiance.
Matlacha looks like an "old Florida" fishing village ("Matlacha Spoken Here"). It also has a growing collection of art galleries, gift and islandwear shops and boutiques, seafood restaurants, small motels and cottages. The drawbridge over Matlacha Pass is known as the "Fishingest Bridge in the World," with anglers customarily fishing the bridge, night and day, in all kinds of weather (mostly sunny). There are plenty of bait and tackle suppliers and two full-service marinas that also rent boats, Olde Fish House Marina and Viking Marina.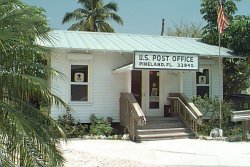 Pineland, one of the main sites of Calusa Indian mounds, boasts one of the country's smallest Post Office buildings (at left) and provides us with the island's only golf course at Alden Pines Country Club. It is also site of Pineland Marina, a full-service marina. There are several water taxi, fishing charter and boat rentals services based at the marina, including the "Tropic Star" Cruiseboat.
St. James City is Pine Island's most developed area with about two thirds of the island's population. Most of its homes are located on canals with direct access to Pine Island Sound, San Carlos Bay and the Gulf of Mexico. The canals at the southern tip of Pine Island are also home to Bob and Annie's Boatyard, York Road Marina and Fishin' Fever Marina.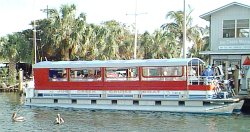 Bokeelia is homeport for many of the island's commercial fishermen and the site of several historic buildings. Fishing charter services, boat rentals and water taxi services are also available at Four Winds Marina. In addition, the Useppa Island Shoreport is located at the Bocilla Island Club Marina.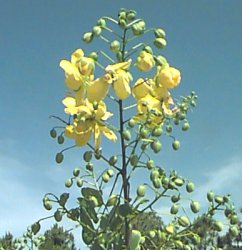 Bokeelia is also the primary location of many of Pine Island's thriving, subtropical agribusinesses featuring mangoes, pineapples, citrus, row crops and a wide variety of exotic tropical fruits including the carambola, longan, papaya, lychee and loquat.
Pine Island Center is the only completely off-water community and the hub of the island's commercial activity. It "harbors" the main shopping center, a community park with pool, lighted tennis courts and ballfields, Pine Island Elementary School, the Museum of The Islands, a modern library, medical and dental offices and the island's main fire station, complete with EMS rescue and medical support services.
---
FISHING AND BOATING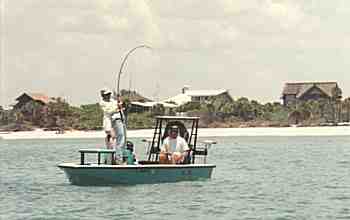 Pine Island's fishing heritage has supported generations of island families. Sport fishermen long ago, also discovered the abundance of finny creatures in Pine Island Sound, San Carlos Bay, Matlacha Pass, Charlotte Harbor and the Gulf of Mexico.
The sport of tarpon fishing originated in Pine Island Sound in the late 1880s. Boca Grande Pass (just 20 minutes across Pine Island Sound from Bokeelia) is considered the "Tarpon Capital of the World." Other popular game fish are snook, redfish, seatrout, grouper, snapper, cobia, mackerel, barracuda, blacktip shark, sheepshead, seabass and many others.
Until you know Pine Island's estuaries and the feeding preferences and habits of our local fish population, you might want to consider doing a few charter trips with a fishing guide. Choose half-day or all-day, offshore, inshore, back-bay (even saltwater fly) fishing. Catching fish is guaranteed! If you like "Fish'nTrips", you'll love Pine Island! By the way, summertime "fishin' is easy" and there's more of it to enjoy, mainly because you don't have to deal with the occasional windy days of downtime that occur from January into March during winter season. So come on down for a less crowded and less costly vacation or fishing extravaganza. (See MORE INFORMATION FOR YOU at the end of these DISCOVER PINE ISLAND Community Pages.)
While Pine Island beaches are limited to minimal, young-children-oriented, wading beaches, "the scenic boat ride to an outer island beach" is considered by many to be, "the most glorious 15 to 30 minutes of the day!"

From either end of the island, St. James City or Bokeelia, that's all it takes to reach the renowned beaches of our barrier islands: Sanibel, Captiva, Upper Captiva and Cayo Costa (a Florida State Park). No waiting in long lines of traffic, no parking fees, no crowds . . . and the passing parade of seabirds and graceful dolphins is unsurpassed! You may use your own boat, one of many water-taxi services, or a tour or cruiseboat to accomplish your mission, be it fishing, beaching, shelling, sealife and seabird watching, nature loving or just enjoyable, relaxing or refreshing and passive transportation.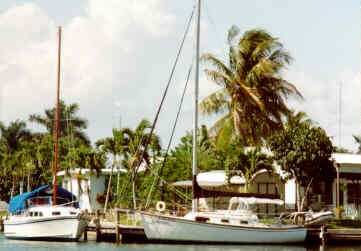 Since the subject of boating encompasses sailing and cruising, we feel we would be remiss if we did not leave you with a favorite excerpt from Claiborne Young's Cruising Guide to Southwest Florida: "You could literally spend weeks exploring Pine Island Sound alone and still not exhaust all the possibilities. Secluded anchorages, good marinas, historic inns with fabulous dining, deserted, white sand beaches, beautiful state parks . . . well, the list could go on and on, but perhaps you are beginning to get the idea. There is no other portion of the Western Florida coastline that combines, in such delightful measure, the fortunate qualities of ready accessibility and fabulous, often unpopulated cruising grounds as does the stretch between the Caloosahatchee River and Gasparilla Island! Get ready for a genuine cruising treat!" Pine Island is truly a Fishing and Boating Paradise!
---
NATURE AND WILDLIFE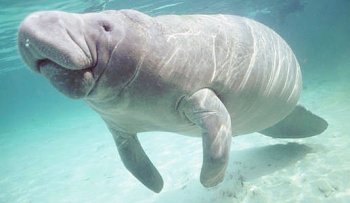 Pine Island's remote and natural environment is home to many varieties of exotic and tropical wildlife. There are more than eighteen, active American bald eagle nesting sites whose residents are often seen soaring through Pine Island's sunny (maybe 350 days a year) skies. Other island birds include the osprey, heron, roseate spoonbill, endangered wood stork, egret, brown and white pelicans, pileated woodpecker, ibis plus the usual array of hawks, owls and songbirds.
Area waterways hold endangered manatees (the gentle giants also known as sea-cows), sea otters, sea turtles and the rolling dolphins, often seen "surfing" our many canals in search of their daily supply of sashimi (without rice) or sushi (we are told, "that comes with the rice!")
| | |
| --- | --- |
| | For a full sized version of the award-winning photo on the left, simply click on the image! We like to think of it as a non-political and non-controversial poling place . . . |
Uninhabited Little Pine Island consists of 4700 acres and is now involved in a process called the Wetland Restoration & Mitigation Bank. A unique ecological transformation is taking place with removal of "exotic" non-native trees and vegetation that have virtually destroyed the ability of the wetlands to support the original native mix of flora and fauna. With the removal of the prolific and invasive Australian pines, the melaleuca (paper trees) and the Brazilian pepper, the return of the bird and animal life is already well under way. Welcome back, Mother Nature! For an interesting look at the scope of this fine project, you are invited to take a detour to Little Pine Island (but remember to use your "Back" button to return to this site)
Nature and wildlife, as well as the environment, are protected on Pine Island by the island's largest organization, the Calusa Land Trust and Nature Preserve of Pine Island, Inc. With over 800 members, the Trust is a local, non-profit, tax-exempt, charitable organization devoted to protecting the natural diversity and beauty of Pine Island. It does so by acquiring and preserving in perpetuity, environmentally sensitive, native Pine Island habitats. As of 2002, the Trust owns or manages some 2,300 acres of native uplands and wetlands - an impressive record, but more needs to be done. For details, tour the Trust Web site at www. calusalandtrust.org.
---
WHAT IS THERE TO DO?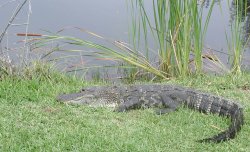 While Pine Island automatically provides for superb, passive enjoyment and relaxation, it is also a great place for interactivity and exploring. Enjoy kayaking in the sheltered waters of Matlacha Pass and the Pine Island Sound Aquatic Preserve. Maneuver (or womaneuver) your own canoe through Jug Creek. Camp out at several island facilities or head for those across the sound at Cayo Costa Island State Park (accessible only by boat). Fish off the Matlacha Drawbridge. Hire a fishing guide and let him or her "do the driving" and "guarantee" to find you some nice, fresh fish! Enjoy an invigorating trip on one of the many water-taxis, or cruise/tourboats to the islands of Cabbage Key and Cayo Costa. Stop for luncheon at the islands of Cabbage Key, Captiva, Sanibel or Upper Captiva. On Pine Island, check out the local shops, dine and relax at a number of local, waterfront or off-water eateries and restaurants, specializing in fresh seafood, served up with a casual, low-key, islandish atmosphere.
---
REAL ESTATE OFFERINGS IN THE PINE ISLAND AREA
See below under MORE INFORMATION FOR YOU, about having a FREE copy of PINE ISLAND REAL ESTATE GUIDE with VISITOR SERVICES mailed to you! It includes all of the island's current offerings by all of our island's realtors. You should know that the GUIDE also includes a wealth of other information about Pine Island visitor services in various categories such as Attractions, Accommodations, Banks and Mortgage Services, Boat and Kayak Rentals, Charter/Cruise Boats, Fishing Guides, Galleries/Gifts/Shopping, Home Builders, Island Services, Marinas, Restaurants & Food Services and more! If you like what you see in the GUIDE, you may want to "subscribe" to our FREE publication. The subscription form provides for first-class mailing for the five issues that we publish each year.
If you would like to find out more about Sanibel and Captiva, we are happy to refer you to a very informative site called BEST OF SANIBEL AND CAPTIVA.
---
MORE GREAT INFORMATION FOR YOU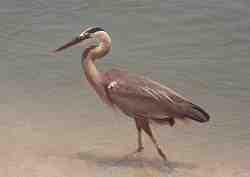 To receive your first FREE copy of the latest (88-page) issue of PINE ISLAND REAL ESTATE GUIDE with VISITOR INFORMATION, please send us your request by e-mail . Be sure to give us your postal address! If you would like to continue to receive our publication after reviewing your first issue, we invite you to complete a "subscription" form found in the magazine, and to send with your check or M.O. to help us defray our postage and (first-rate) handling expense.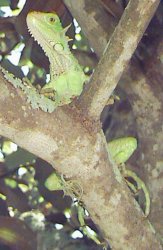 For more PERSONALIZED INFORMATION AND ATTENTION about accommodations, camping, fishing guides, charters, boat rentals, kayaking, sightseeing, tour or cruiseboat trips, our newest staff member, Ivanna Iguana (at left) will be glad to assist. Please include in your e-mail request beaucoup de specifics such as dates, number in your party, how long you want to stay, type of accommodations, price range, type of fishing, boat rentals, etc. Ivanna will respond mucho pronto! Your every wish is her command!
To receive an additional, relocation or information packet (with the Real Estate Guide and Pine Island map), please mail check or MO for $4.75 (US funds) for S & H (First Class Mail) to PINE ISLAND CHAMBER OF COMMERCE, PO Box 525, Matlacha FL 33993-0525. You may also want to look in on the Greater Pine Island Chamber of Commerce's Web site.


For a great look at the surrounding region including Ft. Myers, Cape Coral, Ft. Myers Beach, Bonita Springs, Lehigh Acres, and the outer islands of Boca Grande, Sanibel, Captiva, Upper Captiva and Cayo Costa, check out the The Beaches of Fort Myers & Sanibel Web site presented by the Lee Island Coast Visitor and Convention Bureau. (Remember to use your browser's "backbutton" to return to DISCOVER PINE ISLAND.)
---
DISCOVER PINE ISLAND Community Pages and PINE ISLAND REAL ESTATE GUIDE with VISITOR INFORMATION Magazine, Copyright 2005 Pine Island Publishers and Tedd C. Lincoln. All rights reserved.
PHOTO CREDITS: Lee County Visitor and Convention Bureau, The Beaches of Fort Myers & Sanibel, Pine Island Publishers, Mike Shevlin and Dr. John Flower
INTERESTED in Advertising in the PINE ISLAND REAL ESTATE GUIDE with VISITOR INFORMATION Magazine?
Send e-mail to: teddsy@cyberstreet.com